Devilstick-Event 2002
From 14.-16.06.2002 there was the first devilstick event in Kaiserslautern, Germany ! More than 40 devilstickers from all parts of Germany, Finnland and France came to the convention.
At wonderful weather we had three really good days in Kaiserslautern.
Highlights:

Workshops
We had workshops for all levels leaded by Jan Bernd, Marc, Anita and Henning. Thanks for your engagement !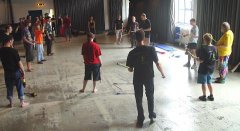 Jan Bernd at workshop
photo: Nicole Puppel

Show-Performance
With ten devilstickers we had a big and great performance during the public show. With yellow event shirts and black caps - sponsored by DEVILSTICK.DE - we inspired the audience with our act "The World of Devilsticks".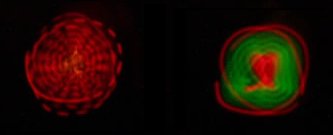 Glo-devilsticks at the beginning of the performance
photo: Radfahrerverein-Biblis
With glo-devilsticks, flowersticks, firesticks and devilsticks we performed in a breakdance style with one and two devils. The stage was not big enough for more than three double propellers side by side...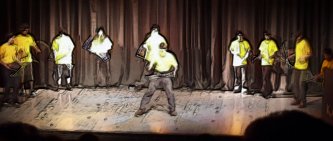 "The World of Devilsticks"
photo: Radfahrerverein-Biblis

1. German Jolleystick Competition
The competition took place outdoors at sunshine in a really nice atmosphere. The winner was Markus from Bavaria who won the final against Henning. The winner of the ladies class was Anita from Cuxhafen.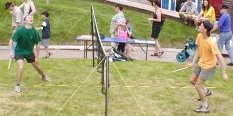 Jolleystick final. (photo: Enrico Pilz)

Devil's Fire Night
Friday and Saturday night: firesticks !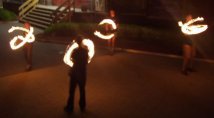 Devil's Fire Night
photo: Radfahrerverein-Biblis

Vendors
Akrobat supported us with first class devilsticks. Thanks for supporting and sponsoring the prices for the jolleystick competition !