Jolleystick
Jolleystick is like volley ball or volley club, but played with a devilstick. In jolleystick a devilstick is played backwards and forwards across a net into your opponent's end of the court. It's a one-on-one game. The devilstick is played with one handstick. The name is an amalgamation of juggling, volleyball and devilstick. It's a fascinating game in which both players must at least be able to do propeller throws. [Jolleystick-Video]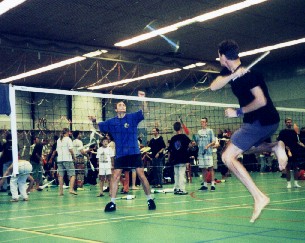 Rules of play
- Each of the two players has only one handstick.
- The service is a propeller throw tossed from the base line and must not touch the net. The players take turn at serving, changing every 5 points.
- The receiver must return the devilstick over the net and into the opponent's part of the court using the handstick. There is no limit on the number of times your handstick can make contact with the devilstick, but it has to be returned within 30 seconds. The devilstick can spin in any plane (propeller, helicopter, saw).
- The devilstick must always be hit upwards from below. In other words, smashing is not allowed.
- Every six points (in sum) the courtside is changed.
The Court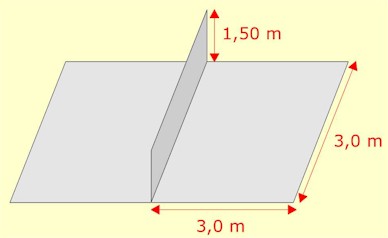 The court is square 3m x 3m wich is approx. 10x10 ft. The height of the net is 1.5 metres or 5 feet.
Scoring
Scoring is like table tennis. Every point counts, and the first player to reach 10 points wins the game. If the score is level at 10 all, you play on until one player is two points ahead. Service changes after every point during this phase. The final is played best of three.
Faults
It counts as a fault if
- you drop the devilstick
- the devilstick lands outside the court
- the devilstick touches any part of a player's body
- a player touches the net
The devilstick is considered out of bounds if the first ground contact by both knobs is outside the court. In other words, if one knob lands inside the court or on the line, it counts as 'in'. It makes no difference wether the devil stick comes to rest inside or outside the court. The only thing that counts is where the two ends of the devilstick first make contact with the ground.
Jolleystick was invented by Markus, Marc, Jan Bernd and Henning at the 2001 Landshut Juggling Convention.
See also report in KASKADE Nr. 64 (p.44f).

Specification
The official devilstick we use for jolleystick is:

Weight: 230 g
Length: 66 cm
Diameter at knob: 3 cm
Diamater at center: 2 cm

Use a solid devilstick that is easy to play. The devilstick should have a good grip. Don't use to thin devilsticks, they
may break at high spinning throws. (Many devilsticks are only 1 cm thick at center.). Also the devilstick should have soft knobs to avoid painful hits !